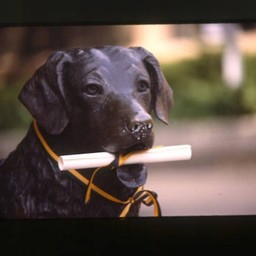 #kelly fiorani marriott or 2006 or 2000s or #lacrosse or Athletics or #paws of glory or #umbc magazine or People or Campus Life
POPULAR MATCHES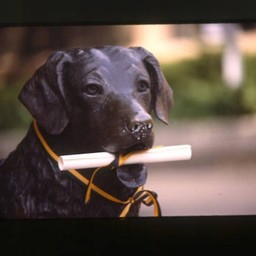 The True Grit statue was unveiled in 1987. The sculptor was an alumna — Paulette Raye '87, philosop…
33
The first students at UMBC were 750 pioneers who arrived on September 19, 1966 and found three acade…
00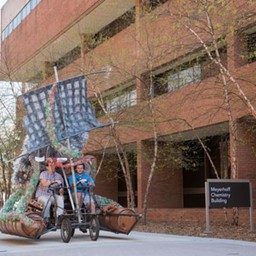 UMBC won "medium-sized" at last year's Kinetic Sculpture Race in Baltimore, taking home th…
10
Do you know these people?
00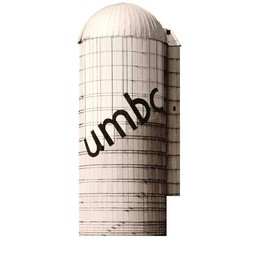 The silo on UMBC Boulevard suggests a connection between the university and farming. What was that p…
00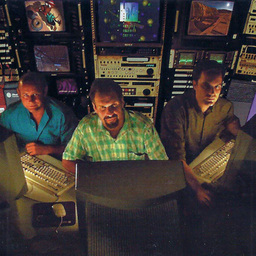 As UMBC celebrates its 50th, the Imaging Research Center (IRC) will begin celebrating its 30th. The…
61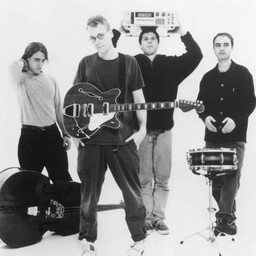 Were you at Quadmania 1998? You'll certainly remember seeing M. Doughty and his band Soul Coughing a…
10
UMBC's 40th anniversary in 2006 had fireworks and parties, but one of its best remembered moments wa…
10
2008 was finally the moment when UMBC's men's basketball team got to the "Big Dance" -…
00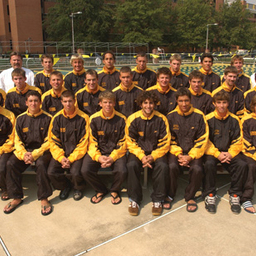 In 2004, the UMBC men's swimming made Retrievers proud when the team took home its first America E…
00
"One of the earliest pieces of public art remaining on campus is Double Helix, a work in Tennes…
00
Did you ever take a class with chemistry professor Robert F. Steiner?
00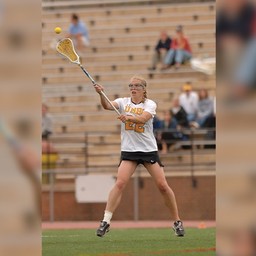 As a standout player in women's lacrosse who also excelled in the classroom, Kelly Fiorani Marriot…
20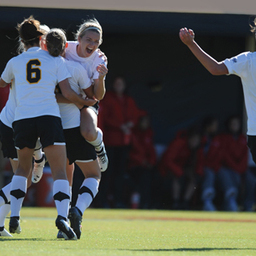 In 2013, UMBC women's soccer team capped a stunning reversal from last place in the conference to …
00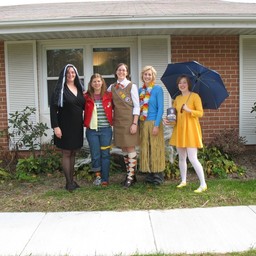 The Alumni House staff take Halloween pretty seriously. This photo was taken outside of Alumni House…
56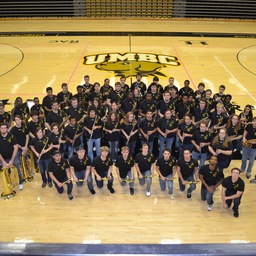 Group photo of UMBC Athletic Bands
10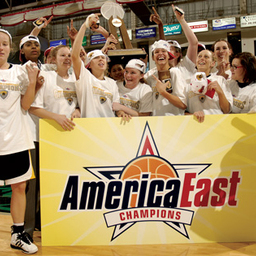 In 2007, UMBC women's basketball team earned its first NCAA tournament bid. Where you there to wat…
00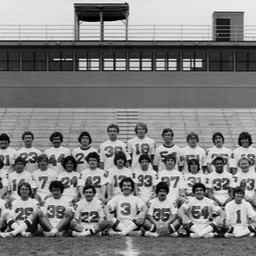 1980: UMBC men's lacrosse team wins the university's only national championship, beating Adelphi…
00
Were you ever involved in a theatre production with Xerxes Mehta?
00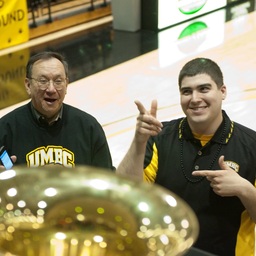 Athletics Band Directors Jari Villanueva and Matt Basch.
10
Is it true that you have to run around the Loop Road to get rid of the calories in one donut? I hear…
10
What's the real story behind True Grit? Why was a Chesapeake Bay retriever chosen as the school'…
00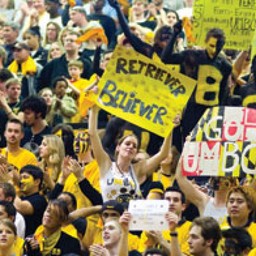 UMBC Athletics hit peak Retriever Fever in the 2007-2008 season, when the men's basketball team stor…
10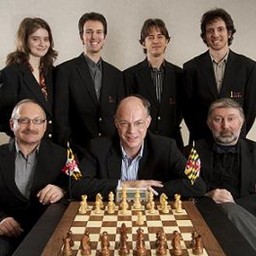 Chess has been an integral part of the UMBC story, and one of the greatest teams in university histo…
00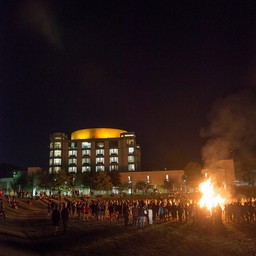 For a young university, traditions are important. Since 2005, UMBC's Homecoming Bonfire has been a p…
10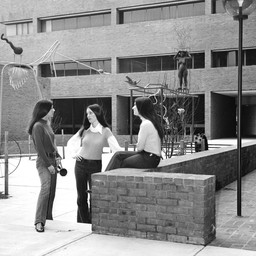 "Some of UMBC's most notable public art from its earliest days has vanished from view. Today,…
00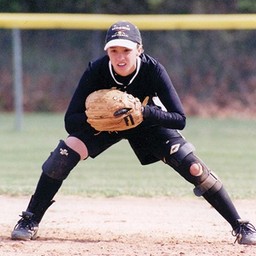 In another moment of victory for UMBC athletics, women's softball squad beats Liberty, 7-1, in the…
00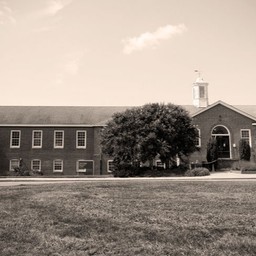 What is the oldest standing building on campus? —Sara Shannon '05, social work
When the Hillcres…
00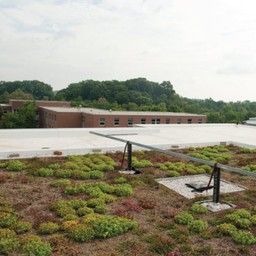 One of the landmark moments in making UMBC a greener campus came in 2007, when UMBC President Freema…
00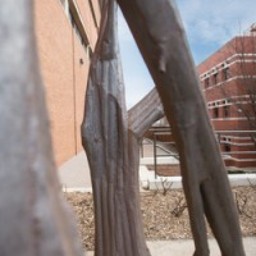 "One of the most poignant pieces of public art on campus is Mnemonic by artist Marc O'Carroll…
00
In 1965, UMBC moved from a plan to a reality. Albin O. Kuhn was named as vice president of the so-ca…
21
Were you here for the Shriver Center dedication? Tell us about it.
00
Why was the Hillcrest Building torn down? What was the history behind this structure? —Perry Alexa…
00
Do you remember this? Past UMBC President Michael Hooker, Bino Koh, and an unknown man looking at pl…
00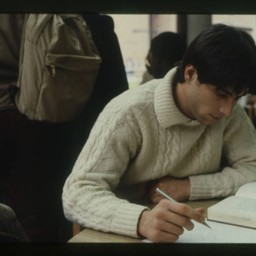 As an Honors University in Maryland, UMBC has a reputation as a school that takes academics serious…
00
Does UMBC have secret underground tunnels? Why? —Bennett Moe '88
Mention the word "tunnels" …
00
The Terrace Apartments opened on campus in 1981 — representing an expansion of the residential life…
10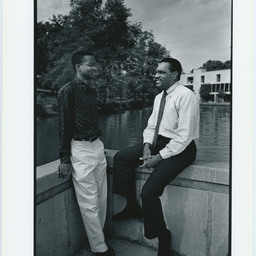 Do you know who Dr. Hrabowski is speaking with?
00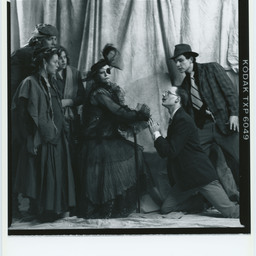 Did you see this theatre production?
00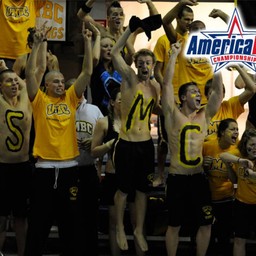 UMBC Retrievers Athletics found a new home in 2003 by joining the America East conference. It has be…
00
Do you know any of these people?
00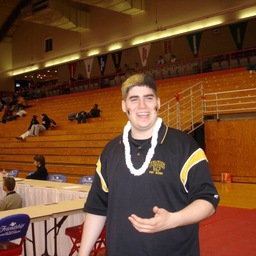 At a tournament several years before moving to Hawaii.
41
Do you know any of these people?
00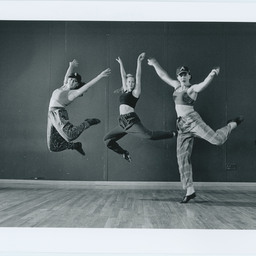 Do you remember these dancers?
12
Why was the Conservation and Environmental Research Area (CERA) and its trail created? —Delana Gre…
00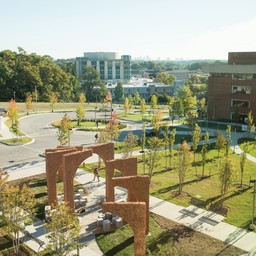 "One of the key elements of UMBC's history as a campus has been the institution's search fo…
10
Did you see this play?
00
In August 2000, Kenneth Knight '03, information systems, and M.S. '05, information systems, was …
43
Do you recognize these actors or the play they're in?
00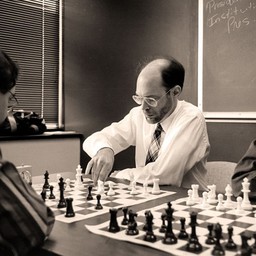 When did UMBC become a national college chess powerhouse? —Valerie Kilgallon '87, English
Accord…
10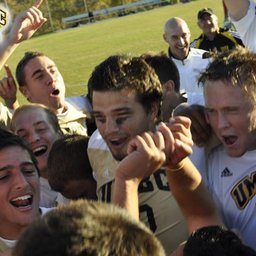 At UMBC I was fortunate enough to be a part of the Men's Soccer Team. In 2010, this extraordinary gr…
21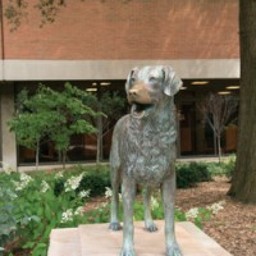 This bronze statue of True Grit was commissioned in in the late 1980s by then-President Michael Hook…
00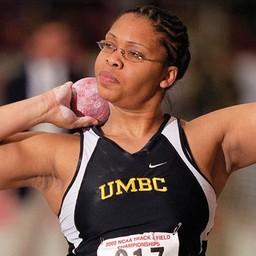 A proud moment for UMBC athletics came when women's track and field phenom Cleopatra Borel '02, …
10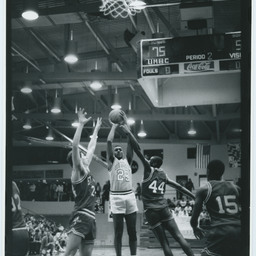 Do you remember when Reggie Truitt '89 played for the Retrievers?
00
The Chesapeake Bay Retriever was selected as the university mascot in founding years of the universi…
10
Kathy Zerrlaut, who coached volleyball and lacrosse at UMBC for 41 years and developed the program a…
10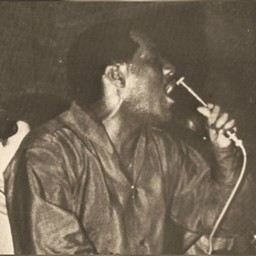 Who was the most famous performer or group to play a concert at UMBC? —Eric Messner '01
UMBC has…
01
Do you recognize these people?
00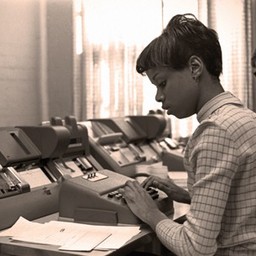 What was the first computer on campus? —Matt Basch '08, M.S. '10
At UMBC, computer science had…
00
The sparkplug for the UMBC men's basketball team's memorable run to the NCAA tournament in 2008,…
00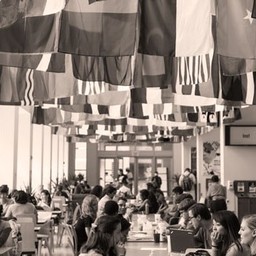 How did it come to be that UMBC develop a class schedule with a "free hour" in the middle of the…
10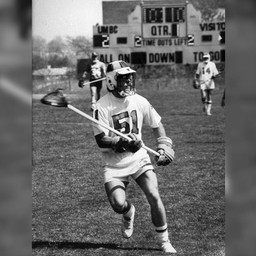 As a defender for the men's lacrosse team, George McGeeney '82 was a First Team All-American at UM…
00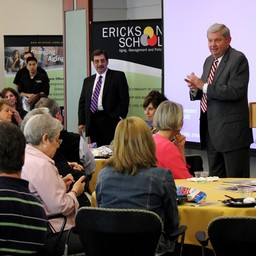 UMBC has always looked to the future — and the founding of the Erickson School of Aging Studies in …
10
Throughout the last 50 years, our athletes have done some amazing things. One note-worthy moment too…
00
As a track and field standout at UMBC, Dave Bobb '97 garnered more individual honors than any other …
10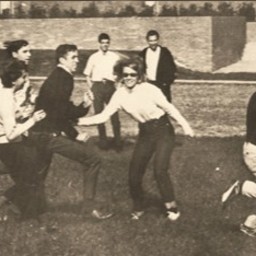 Why does UMBC not have a football team? Did the university ever consider having one? —Lisa Price …
00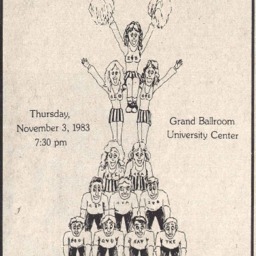 "Greek" was the word at UMBC in 1983 — as this advertisement for a session on "The N…
10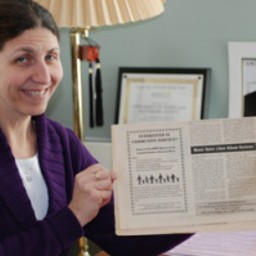 Check out this 2013 interview with Michele Wolff, director of the Shriver Center, about the Center's…
00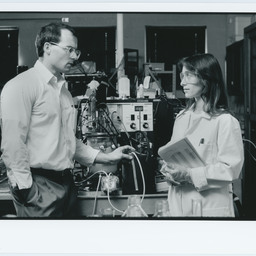 Do you recognize this researcher?
00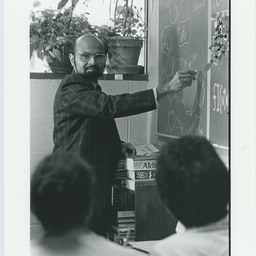 Do you remember Dr. Ramachandra "Ram" Hosmane?
00
Do you recognize these actors from the 1994 production of Hamlet?
11
In 2002, men's tennis standout Oscar Lopez '00, and M.S. '02, mechanical engineering, became t…
00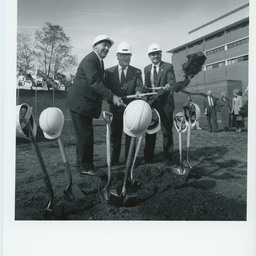 Were you there when Maryland State Comptroller Louis L Goldstein and Michael Hooker broke ground on …
00
1966 was a year of firsts for UMBC. The university opened its doors and on its first day of classes,…
10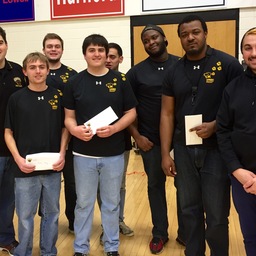 Seniors at my last game before moving to Hawaii.
10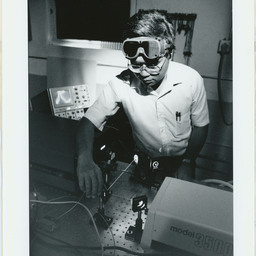 Do you know what he's working on?
11
UMBC Athletics history has few stories of Grit and Greatness that are more impressive than the 2013 …
00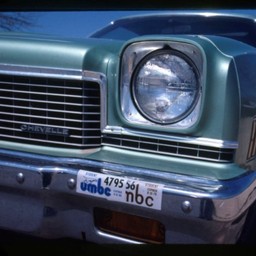 From the earliest days of UMBC, finding one's place didn't just mean growing as a student and a pers…
11
Freeman A. Hrabowski, III was named as UMBC's president in 1993. In his installation address, he sta…
00
Do you know these dancers?
10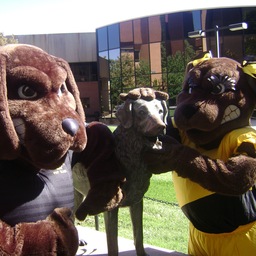 UMBC Mascots: True and Trudy Grit. October 2007
00
UMBC's Women's Center was founded in 1991 — and it has been providing essential services to the cam…
00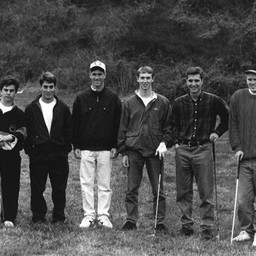 It's no small feat to narrow down 50 years of athletics history to some of our most iconic moments, …
11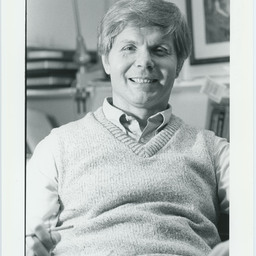 Do you know who this is? Tell us!
00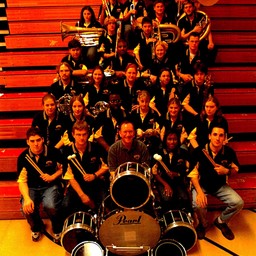 My first year in the Down and Dirty Dawg Band. 2004
40
Throughout the Years
Take a walk through this timeline of significant milestones in UMBC's history and you'll see moments of grit and greatness all along the way.
4 stories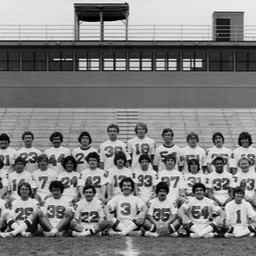 Grit & Glory
Witness some of the greatest moments in UMBC athletics history.
6 stories
Space in Time
Take a look at some of the most iconic public artwork to grace our campus over the years.
5 stories