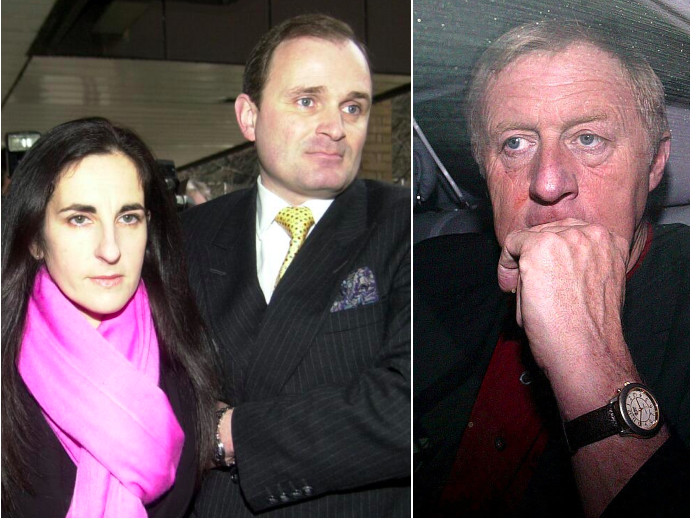 One night in September 2001, the studio audience of Who Wants to Be a Millionaire? looked on in awe as Charles Ingram won the £1m jackpot.
After the former British army major answered his 15th consecutive quiz question correctly, an ecstatic Chris Tarrant announced "You have just won £1m pounds!" and Ingram screamed with joy, before burying his head in his hands.
"You are the most amazing contestant we have ever, ever had," cried Tarrant, enveloping Ingram in a congratulatory hug as confetti poured over the stage.
Download the new Independent Premium app
Sharing the full story, not just the headlines
Ingram's wife Diana watched on from the crowd, sliding her hands down the sides of her face in shock.
But the couple's glory was shortlived, as within hours they were accused of cheating.
The scandal, which has been dubbed "the most British crime of all time", is being dramatised in a new series on ITV, titled Quiz. Based on the play by James Graham, it will star Matthew Macfadyen and Sian Clifford as the Ingrams, alongside Michael Sheen as Tarrant and Michael Jibson as the couple's alleged accomplice, Tecwen Whittock.
Ahead of the show's launch, find out about the true story of the "coughing major" here…
Who are Charles and Diana Ingram?
Charles William Ingram is a former British army major from Hampshire, born in 1963. He met his wife Diana while she was training to be a teacher and the pair married in 1989. They have three children together.
Diana and Charles Ingram arrive at Southwark Crown Court March 3, 2003
Both Diana and her brother Adrian Pollock had been contestants on Who Wants to Be a Millionaire? before Charles appeared on the show. Coincidentally, the siblings each won £32,000.
Ahead of going on the programme in 2001, Charles practised for 20 minutes a day on a "fastest finger" machine that he and Diana had constructed themselves at home.
What happened on Who Wants to Be a Millionaire?
On 9 and 10 September 2001, Charles was a contestant on Who Wants to Be a Millionaire?
At the time, the ITV show was one of the highest-rated series in the UK and would often pull in around 10m viewers.
Charles was joined in the studio by his wife Diana, who was sitting in the audience, and their alleged accomplice and waiting contestant, Tecwen Whittock.
By the end of the first day of filming, Charles had stumbled his way to the £4,000 mark and had already used two of his three "lifelines". Put simply, the producers were not expecting him to get much further.
Matthew Macfadyen as Major Charles Ingram in ITV drama 'Quiz'
On the second day of filming, Charles was erratic. He flitted between different answers, appearing to settle on one before suddenly moving to another. In one stand-out moment, when he was asked who recorded the 2000 Craig David album Born to Do It, Charles said he had "never heard of" the singer. He initially opted for the wrong answer but then, to Tarrant's bafflement, moved onto the correct answer as his final choice.
When Charles eventually won, he became the third person ever to secure the programme's top prize of £1m. Footage of his triumph is still available on
YouTube, and has racked up 25m views.
Why did the producers become suspicious?
Behind the scenes, producers had started to question Whittock's behaviour. They had twigged that the waiting contestant, who was later named as the Ingrams' accomplice, would cough whenever Charles read out a correct answer and appeared to blow his nose when he was about to choose the wrong answer.
The show's production company Celador suspended the £1m payout after they suspected Ingram had cheated.
Charles Ingram wins £1m on Who Wants to Be a Millionaire?
What happened afterwards?
Charles, Diana and Whittock were all arrested in the weeks after filming and, in 2003, they stood trial at Southwark Crown Court to face the charges of conspiracy to obtain a valuable security by deception.
The trio all maintained their innocence but, after four weeks, they were found guilty of conspiring to cheat on the show. The Ingrams each received an 18-month suspended sentence and Whittock was given a 12-month suspended sentence.
Tecwen Whittock arrives at the 2003 trial
The Ingrams were slapped with fines of £15,000 each and ordered to pay £10,000 in costs.
During the trial, it emerged that Tarrant went to the Ingrams' dressing room to congratulate the couple and drink champagne after the production team warned him of their suspicions.
Tarrant said: "They seemed as normal as people who have just won £1 million would be in that situation. They did seem fine."
Chris Tarrant arrives at the Ingrams' trial in 2003
Researcher Eve Winstanley, however, told the court that Charles seemed very "unhappy" for someone who had just won £1m.
Charles's episode, which was originally scheduled for broadcast in September 2001, was pulled by ITV. His "win" was not seen by the public until after the trial in April 2003, in the documentary Tonight With Trevor McDonald – Major Fraud.
Years later, questions began to arise over the trio's guilt. In 2006, Guardian writer Jon Ronson, who had covered the trial, confessed he had "doubts" about its outcome. "I am beginning to suspect that Charles Ingram, his wife, Diana, and Tecwen Whittock may be innocent," he wrote.
In 2015, journalist Bob Woffinden and former Millionaire contestant James Plaskett published a book highlighting possible problems with the case.
The Ingrams still protest their innocence to this day.
After being forced to resign from the army, Charles went on to feature on several TV shows with Diana, including Wife Swap and Hell's Kitchen (on which Gordon Ramsey served them a cough sweet).
Who Wants to Be a Millionaire? changed the Ingrams' lives forever, but not in the way they had hoped. In the years after appearing on the show, their pets were attacked, strangers coughed at them in the street, and they had to take their children out of school.
The couple have been involved in the new ITV series, with writer Graham revealing: "We invited them on to the set, they met Sian and Matthew. I think, I hope, that since we are raising the possibility that all is not as it seems, they seem quite pleased that this conversation is being had."
Quiz airs on ITV on 13 April at 9pm