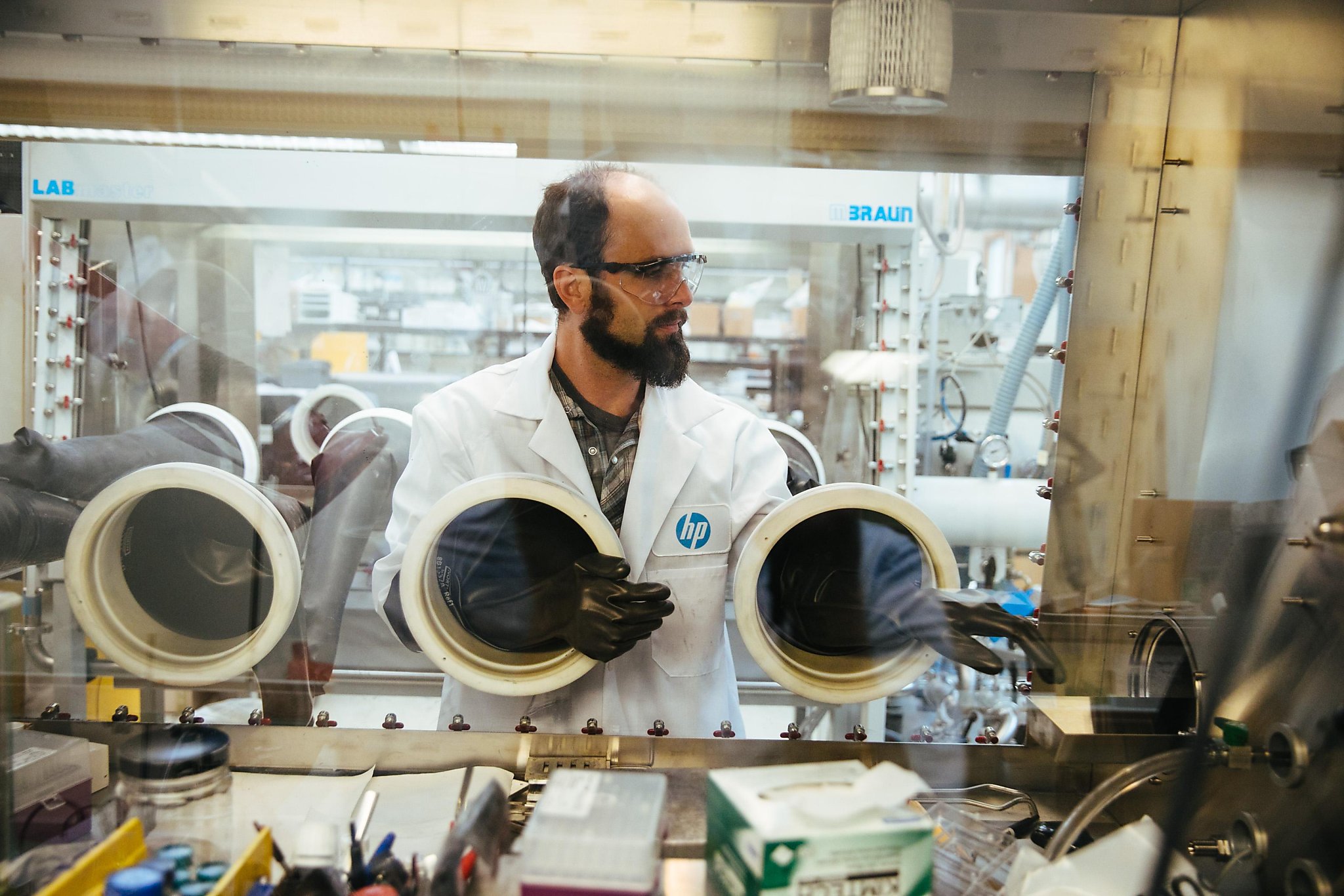 "If you're a geek, this is the place to be," Shane Wall said to me.
A lot of people in Silicon Valley, whether working at Apple or Google or the next hot startup, would say the same thing. But Wall's current gig as director of HP Labs carries a particular resonance among scientists and engineers even passingly familiar with the region's history.
There was a time when HP Labs in Palo Alto epitomized the very heart of Silicon Valley ingenuity. The famed research and development arm of Hewlett-Packard was the West Coast's answer to AT&T's vaunted Bell Labs in New Jersey, producing groundbreaking innovations like the programmable calculator and ink-jet printing.
Wall, of course, is aware of that reputation — and how the unit's record of innovation had "atrophied" in recent years.
The mission "is to return HP Labs to the glory of what it was when it was essentially the founding lab of Silicon Valley," Wall said.
That might be overly ambitious. HP Labs' decline was no doubt related to the corporate dysfunction that has befallen Hewlett-Packard since the turn of the millennium: ill-fated acquisitions, CEO misconduct, boardroom infighting. A former head of HP Labs, Prith Banerjee, similarly vowed a return to glory days in February 2012; he was out two months later.
Even without those specific woes, the quality of U.S. corporate R&D has been on the wane for several decades now.
From 2005 to 2015, business R&D spending soared 78 percent to $355 billion, according to the National Science Foundation's National Center for Science and Engineering. Yet new research shows that companies are not getting as much bang for their buck.
Anne Marie Knott, a professor of strategy at Washington University's Olin School of Business in St. Louis, recently analyzed the performance of publicly traded companies since 1972, measuring productivity by comparing increases in R&D spending with increases in annual revenue.
She found that corporate returns on R&D spending actually declined 65 percent.
"R&D has not been as productive as it was four decades ago," Knott said.
But why?
The idea of a corporate lab first emerged in the 19th century during the Industrial Revolution, when the United States embraced methods of mass manufacturing. At the time, research focused mostly on materials science like the behavior of metals and lubricants.
In the early 20th century, the Pennsylvania Railroad company built a facility to test how locomotives performed at speeds as high as 90 mph. Inventions like electrical power and long-distance communications surged, making Alexander Graham Bell and Thomas Edison household names. Corporations needed to build labs so they could harness all of this innovation — and perhaps contribute some of their own.
The emergence of computers provided another boost to corporate research. Hewlett-Packard launched HP Labs in 1966, which promptly created the HP2116A minicomputer. In the years that followed, HP Labs rolled out LED lighting, scientific calculators, lasers to make microchips, and ultrasound technology to capture live images of the human heart.
However, the emergence of the Internet in the 1990s posed problems for big companies. The pace of innovation accelerated and once-dominant industries seem to crumble overnight. Corporations were too slow and bulky to catch up.
In 2009, Mark Hurd, then Hewlett-Packard's CEO, slashed R&D spending, including HP Labs. The cuts improved the company's earnings and share price but earned Hurd, already known as a bean counter, the animosity of engineers and scientists who appreciated the labs' legacy.
The sheer size of companies can make it hard for innovations to reach the market, said Rahul Kapoor, an associate professor of management at the University of Pennsylvania's Wharton School. Strong leaders are needed to overcome bureaucratic inertia to see promising technologies to the finish line, he said.
In addition, some companies argue that the existence of R&D labs suggests to other employees that only scientists in white coats are responsible for creating new stuff. Kapoor argues that people throughout the company should be innovating.
One example: Despite spending billions of dollars on R&D, big names like Hewlett-Packard, Intel and Microsoft failed to spot the mobile revolution, in which smartphones and tablets replaced the personal computer
as the primary technology in consumers' lives. Now Apple and Google rule there.
Wall Street kept up the pressure. Corporate labs now had to produce innovations that produced financial returns faster. Other companies, especially those in the pharmaceutical industry, slashed R&D spending, preferring to acquire new treatments instead of developing drugs themselves. And the vogue for listening to customers, though admirable, slowed innovation, Knott said — since customers often can't imagine wanting products that have yet to be invented.
Given that, reinventing a corporate laboratory might seem hopeless. But the recent split of Hewlett-Packard into HP Inc. (PCs, printers) and Hewlett Packard Enterprise (business servers, cloud computing) offered HP Labs a prime opportunity to reclaim its innovation groove, Wall said.
The split "allowed us to focus and invest in our business in a way that we hadn't been able to before," he said. "You have less hierarchy upon which a decision is made. You know your financial window that you operate within. And you can make the trade-offs within that window."
In a way, the split made HP Labs even more essential to HP Inc. Investors assumed the rationale behind the move was to separate the declining consumer PC and printer business from the faster growing market for business computing.
"We were seen more as the value company that was not going to be growing," Enrique Lores, who oversees the printing business for HP Inc., told me. "This is the how the investors perceived us. But we believed there was an opportunity to turn this company around."
The new HP Inc. needed the labs to find ways to keep its business relevant for years to come.
Innovations from the lab with digital graphics has allowed HP Inc. to broaden its customer base from consumers to commercial printing. For example, HP Inc. now prints labels for Coca-Cola bottles and Oreo packages in China.
Digital printing "enables significant reductions of cost," Lores said. "When you are using traditional printing technologies, you need to print a lot and then a lot of the printed material is never used. With digital, you can personalize what you print and only print what you need."
New technology from HP Inc. also allows consumers to print photos directly from mobile devices in various formats like stickers.
One big advantage with corporate labs is that companies can think ahead and find opportunities for technologies beyond their original purpose, Wharton's Kapoor said.
"We try to really put ourselves 30 years in the future," Wall said. "And we start by looking at humanity. Socioeconomic, geographic, political changes we call 'megatrends.' We do them every year and we refresh it at midyear."
"It's a very deep look at how we see the world changing," he said. "And that frames a set of things. The cities are getting bigger. The population is getting older. Globalization. What does that mean in terms of how we design or develop products?"
Take 3-D printing. Like many companies, HP Inc. is pursuing this technology as a more efficient way to make everything from models and toys to smartphone cases — even sophisticated gear like camera lenses.
But Wall believes 3-D printing will evolve to a point where the technology can produce anything in mass quantities, from cars to computers, at lower costs. And that will allow companies that now rely on cheaper labor in foreign countries to bring back manufacturing to the United States.
"This technology doesn't exist anywhere," Wall said. "There's a lot of different 3-D print(ing) technologies out there, but they're all analog. What's destructive here is digital. So imagine a fully digitally manufactured world."
That is corporate labs at their best: allowing companies to imagine the future while making money in the present.
Thomas Lee is a San Francisco Chronicle columnist. Email: [email protected] Twitter: @ByTomLee