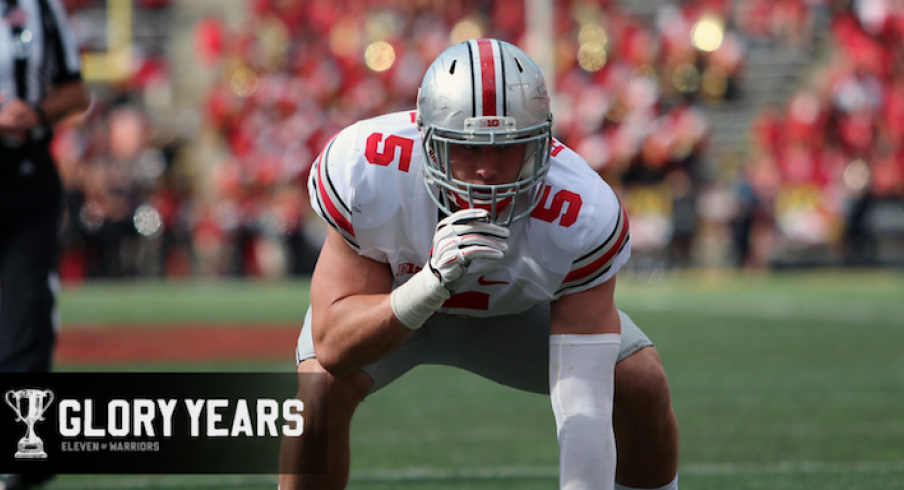 Welcome to Glory Years, where we rank the top individual seasons in Ohio State football history.
Similar to a number of other groups on the football field, the tight end position has changed as the game of football has evolved. As the ground-and-pound game of decades past has transformed into the air-raid offenses of today, tight ends acting as offensive linemen has given way to faster, agile pass-catchers that can create mismatches down the field. 
In Ohio State's history, tight ends have rarely been the most well-utilized offensive weapon on the offense. Despite this, the position group has had a number of bright spots over the course of the offense's transformation. Using traditional statistics, we'll take a look at some of the greatest tight end seasons in program history, spanning from the days of Woody Hayes to the modern offenses of Ryan Day. 
Methodology

Like our ratings of the other offensive position groups, we will use a nonparametric ranking system to determine the greatest season by a tight end in program history. We will use the same seven statistics we used for receivers, filtering for all tight ends with at least 10 receptions in a season dating back to 1952. 
Receiving Yards
Receptions
Receiving Touchdowns
Yards per Reception
Player's Percentage of Team's Total Receiving Yards
Player's Percentage of Team's Total Receiving Touchdowns
Player's Yards per Catch Above Team's Yards per Catch Average
Each variable is weighted equally, helping us compare players from different eras. Altogether, the ranks were averaged out to find a composite ranking. The following outputs were determined to be the ten greatest seasons by a tight end in Ohio State history.
10. John Lumpkin, 1997

Joining just four other athletes as basketball-and-football players, John Lumpkin's prevalence in Ohio State's illustrious history is somewhat surprising. The Trotwood native recorded just 17 catches his senior year but possesses the highest yards per catch average of any tight end in program history (18.82 yards per catch) and averaged 4.67 more yards per catch than the team average, the second-highest mark in the position group's history. 
Lumpkin was primarily a blocker on Ohio State's offense, which also possessed David Boston out wide. He started 19 games for the basketball team. 
9. Jake Stoneburner, 2012

A consistent, four-year player, Jake Stoneburner is one of the most recognizable Ohio State tight ends in recent history. The 6-foot-3 Buckeye averaged nearly 17 yards per catch his redshirt senior season, the third-highest mark in program history.  
The Dublin native finished the bowl-ban season with 269 yards and four touchdowns. 
8. Jan White, 1969

After winning a national championship as a sophomore in 1968, Jan White returned to Columbus his junior year as a star. He was one of the team's 11 All-Big Ten selections the prior year and proved to be one of the best tight ends in program history in 1969, accounting for nearly 30% of the team's total receiving touchdowns on a run-first team. 
White is the only tight end in program history to have a tree in Buckeye Grove. He finished his career with 61 catches and eight touchdowns. He was selected to Ohio State's All-Century team in 2000. 
7. Jeff Ellis, 1988

The son of heavyweight boxing champion Jimmy Ellis, Jeff Ellis' 1988 season remains near the top of Ohio State's record books. In his sophomore year, Ellis recorded 492 yards (No. 5 in program history) on 40 receptions (No. 4 in program history) while accounting for nearly 24% of the team's receiving yards (No. 5 in program history).  
Ellis finished his career with 863 yards and 70 catches. He tragically passed away in 2018 after a battle with pancreatic cancer. 
6. Jeff Heuerman, 2013

A member of the most recent national championship team, Jeff Heuerman was at his best his junior year. The tight end averaged nearly 18 yards per catch (second in program history), nearly six yards higher than the team's per catch average (highest in program history). 
Heuerman was an All-Big Ten honorable mention following the 2013 season. He returned for his senior year and recorded over 200 yards in 2014. 
5. Billy Anders, 1966

After walking on and starting the previous year, Billy Anders entered the 1966 season with a full offseason under his belt. In response, Anders shattered the previous receiving records by a tight end in program history. He still possesses the most receiving yards (671 yards), receptions (55 catches), and percentage of team's receiving yards (56.14%) in Ohio State's tight end history. 
Anders' 1966 campaign was Woody Hayes' most prolific passing season in his illustrious career.  
4. John Frank, 1983

A Pittsburgh native, John Frank entered his senior year with one of the best resumés of any tight end in program history. He already had 840 yards, which would have been second-best career mark for tight ends in Ohio State history at that time. In his senior year, Frank made sure to solidify himself in the record books, recording 641 yards (No. 2 in program history) with 45 receptions (tied third all-time with his 1981 season).
Frank finished his career with the most career receptions and receiving yards by a tight end in program history and was selected to Ohio State's All-Century Team. He also attended medical school at Ohio State while playing in the NFL for five years, ultimately earning his medical degree in 1992. 
3. Rickey Dudley, 1995

After coming to Ohio State as a basketball recruit, Rickey Dudley, Texas' 4A Football Player of the Year, decided to give football another go in 1994. After recording just nine receptions in his first year in the Horseshoe, Dudley exploded for 575 yards (No. 3 in program history), seven touchdowns (T-No.1 in program history), and 37 receptions (No. 6 in program history). 
The 6-foot-6 forward/tight end was drafted No. 9 overall in the 1996 NFL Draft. He also averaged over 13 points per game and 7.5 rebounds in his final year playing basketball. 
2. Billy Anders, 1967

After breaking records as a junior. Billy Anders returned as Hayes' top option in the passing game. While the Bucks threw the ball less often in 1967, the senior had another fantastic campaign, catching three of Ohio State's four receiving touchdowns that season, the best rate in program history, while recording over 52% of the team's receiving yards, which is second only to his mark in the previous year. 
Anders earned First-Team All-Big Ten honors following the season. He is second in career yards and catches for a tight end in program history. 
1. Bob Grimes, 1952

An integral part of Ohio State's first great passing offense, Bob Grimes' senior year tops our list of the greatest seasons by a tight end in program history. Grimes no longer sits at the top of every record like he once did, but he has remained in the top five among tight ends in receiving touchdowns (No. 3, six TDs), percentage of a team's receiving yards (No. 3, 31.24%), receiving yards (No. 5, 534 yards), percentage of a team's receiving touchdowns (No. 4, 37.04%), and receptions (No. 5, 39 receptions). 
Bob Grimes authored the receiving record books of Ohio State, finishing the season breaking every major single-game and single-season receiving record. He still holds the record for the most receiving yards by a tight end in a single game (187 yards), receiving touchdowns in a single game (four TDs, since tied by three other players), and single-game receptions by a tight end (12 receptions, since tied by Billy Anders) in program history. 
|   | Player | Season | Rec YDS | Rec | Rec TDs | YPR | % TRY | % TRTD | YPR/TYPR | Score |
| --- | --- | --- | --- | --- | --- | --- | --- | --- | --- | --- |
| 1 | Bob Grimes | 1952 | 534 | 39 | 6 | 13.69 | 31.2% | 37.0% | -0.07 | 6.857 |
| 2 | Billy Anders | 1967 | 403 | 28 | 3 | 14.39 | 52.2% | 75.0% | +2.48 | 7.786 |
| 3 | Rickey Dudley | 1995 | 575 | 37 | 7 | 15.54 | 16.5% | 21.5% | +0.28 | 8.357 |
| 4 | John Frank | 1983 | 641 | 45 | 4 | 14.24 | 27.3% | 25.6% | -1.40 | 9.214 |
| 5 | Billy Anders | 1966 | 671 | 55 | 2 | 12.20 | 56.1% | 31.7% | +1.13 | 9.429 |
| 6 | Jeff Heuerman | 2013 | 466 | 26 | 4 | 17.92 | 16.3% | 10.6% | +5.96 | 11.143 |
| 7 | Jeff Ellis | 1988 | 492 | 40 | 2 | 12.30 | 23.9% | 26.0% | -1.06 | 13.429 |
| 8 | Jan White | 1969 | 308 | 23 | 5 | 13.39 | 18.5% | 29.2% | -1.29 | 14.214 |
| 9 | Jake Stoneburner | 2012 | 269 | 16 | 4 | 16.81 | 12.4% | 23.8% | +3.27 | 15.357 |
| 10 | John Lumpkin | 1997 | 320 | 17 | 3 | 18.82 | 10.2% | 11.5% | +4.67 | 16.714 |
| 11 | Bruce Jankowski | 1968 | 328 | 31 | 3 | 10.58 | 23.7% | 30.0% | -2.72 | 17.214 |
| 12 | Jake Stoneburner | 2011 | 193 | 14 | 7 | 13.79 | 11.7% | 38.5% | 0.55 | 17.429 |
| 13 | John Lumpkin | 1998 | 278 | 17 | 4 | 16.35 | 7.8% | 15.2% | +1.89 | 17.714 |
| 14 | Darnell Sanders | 2000 | 270 | 23 | 5 | 11.74 | 11.8% | 35.0% | -2.73 | 19.286 |
| 15 | Mike Bartoszek | 1974 | 240 | 15 | 2 | 16.00 | 22.8% | 20.8% | -0.26 | 19.429 |
| 16 | Jim Palmer | 1989 | 308 | 28 | 3 | 11.00 | 14.1% | 22.7% | -3.77 | 20.857 |
| 17 | John Frank | 1981 | 449 | 45 | 3 | 9.98 | 16.6% | 15.6% | -3.99 | 20.929 |
| 18 | Marcus Baugh | 2017 | 304 | 28 | 5 | 10.86 | 8.3% | 12.8% | -1.96 | 21.000 |
| 19 | Ed Taggart | 1985 | 327 | 31 | 3 | 10.55 | 13.6% | 14.7% | -2.47 | 21.071 |
| 20 | John Frank | 1982 | 326 | 26 | 2 | 12.54 | 15.9% | 20.8% | -4.54 | 22.286 |
LEGEND: YPR Yards per Reception, % TRY Percentage of Team Receiving Yards, % TRTD Percentage of Team Receiving Touchdowns, YPR/TYPR Yards per Reception over Team Yards Per Reception