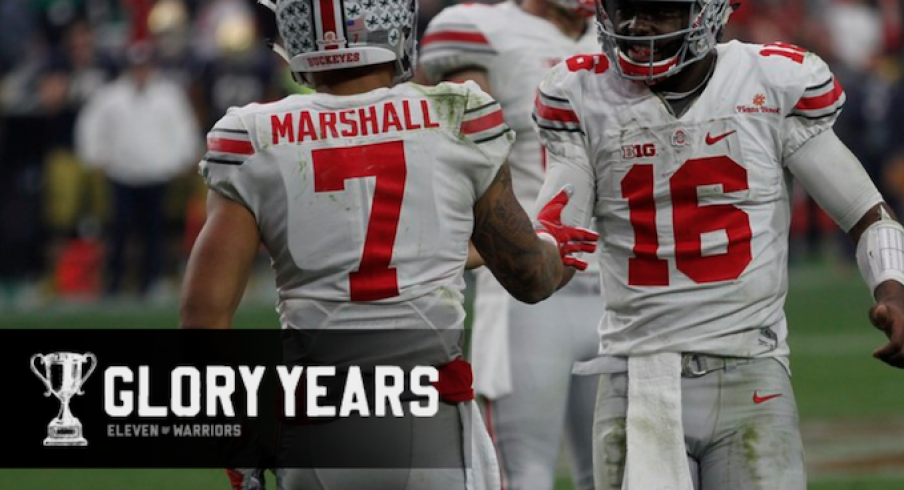 Welcome to Glory Years, where we rank the top seasons by each position group in Ohio State football history.
As the aerial attack becomes the name of the game, receivers are more important than ever. In the past, an offense could have a single superstar and wreck havoc on their opponents. Today, teams are more likely to possess a balanced receiving corps, relying on a number of players instead of one. 
While we have already ranked the top individual seasons in Ohio State receiver history, some teams have followed this trend, opting for a balanced attack rather than relying on a single star. Because of this, we wanted to rank the greatest receiving corps in program history, taking the three best pass-catchers on each team and determining the best group in Buckeye history. 
Methodology

Like our individual seasons' rankings, we used a nonparametric approach to find the best receiving corps in program history. For each year, we used our previous rankings, which filtered out receivers that did not have more than 10 catches in a season, to determine the top three pass-catchers by the ranking system. Then, we used four box score statistics to rank each season. 
Total Receiving Yards
Total Receptions
Overall Yards per Catch
Total Receiving Touchdowns
While simpler than the individual rankings, it is easier to understand and avoids redundancy; finding the percent of total receiving yards for a trio can lower teams that had multiple, capable receivers.
In the same breath, the number of receivers (three) was chosen for its simplicity for comparing across eras. While teams today employ four-wide and often have four or more receivers with sizable receiving totals, that was not always the case. Capping the total for each receiver at three allows us to compare starters against starters for over 60 years of data while making our ranking different from a simple comparison between total statistics for each team. 
Altogether, the rankings of each of the four categories were averaged together to create a composite rating. The following outputs were determined to be the ten greatest seasons by a receiving corps in Ohio State history.
10. 2006 

The trio of Ted Ginn Jr., Brian Robiskie, and Anthony Gonzalez made life easy for Troy Smith his senior year, helping him win the Heisman Trophy in 2006. Ginn led the group in receiving, racking up 781 yards with 59 receptions and nine touchdowns. The three combined for 1,898 yards, good for the 10th-best mark for a trio in program history, and 139 receptions, the fifth-best mark in Ohio State history. 
Ginn and Gonzalez earned First Team All-Big Ten honors following the season. Robiskie recorded the sixth-best season in Ohio State receiving history the following year. 
9. 2013 

With Braxton Miller in his final year under center, Corey Brown, Jeff Heuerman, and Devin Smith proved to be a versatile group. Brown recorded 771 yards, leading the team, while the other two added 660 yards and 466 yards, respectively. Their combined 22 receiving touchdowns rank seventh among trios in program history. 
Brown earned Second Team All-Big Ten honors following the season. Heuerman's 2013 outing ranks as the sixth-best season by a tight end in program history. 
8. 2010

Led by the two-headed monster of Dane Sanzenbacher and Devier Posey, the duo is joined by running back Brandon Saine, giving quarterback Terrelle Pryor options all over the field. Sanzenbacher, whose season is the ninth-best in program history, led the team with 948 yards, 55 receptions, and 11 touchdowns while Posey added 848 yards, 53 receptions, and seven touchdowns. The trio ranks in the top ten in receptions (T-No. 9), yards (No. 8), and touchdowns (No. 5). 
Sanzenbacher earned First Team All-Big Ten honors his senior year, which ranks as the
history">ninth-best season in program history.