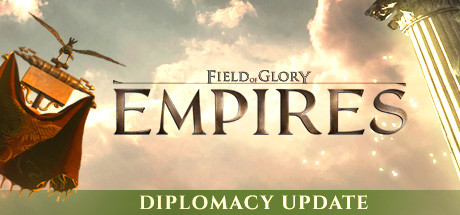 Reviews
"I'd be surprised if Field of Glory: Empires didn't go down as one of 2019s best grand strategy offerings."
Rock Paper Shotgun"The level of complexity and the details put into the game make it indeed a grand strategy game. Buy it at your own risk because Field of Glory: Empires is addictive and it will keep you occupied for hours to come."
9/10 – Games Hedge
"It's definitely one to consider and an excellent new contender in the grand strategy space."
100 – Strategy Gamer
MASTERS EDITION BUNDLE

For you willing to have direct control over specific battles, if you own Field of Glory 2, you can import tactical battles from Empires into FOG2 and vice versa. We have set up a Field of Glory Masters Edition. This edition is a bundle including FOG2 and FOG Empires 25% discounted.
Provincial Units Infographic – Full List
In Field of Glory: Empires almost every province in the game has a unique unit. These units are often quite powerful or have unique traits but the cost of each unit will increase as you raise more.
Provincial units are usually slightly more effective than the generic unit of their type. In addition, some are very useful such as archers and some cavalry units. Others are very powerful and a valuable addition to any army.
Wondering what type of Provincial Unit will you unlock in Hiberia? Or are you in desperate need for some good Infantry Unit and want to know where to recruit them?
Check the infographic below and discover how massive the world of Field of Glory: Empires is.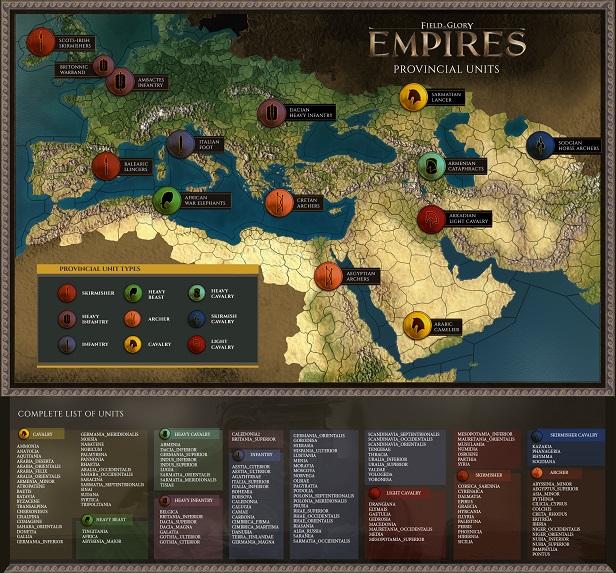 About This Game

Civilizations come and go; common men and kings they get covered by the dust of time in the same way. Monuments and wonders crumble under their own weight. But the cultural legacy is not bygone. Stories and tales about ancestors and their deeds pass through generations, the old knowledge is not lost forever. Soon, new societies, new kingdoms, new civilizations rise from the seeds of the ones which predated them. Decadence is not the end.
Will your legacy stand the test of time?

Field of Glory: Empires is a grand strategy game in which you will have to move in an intricate and living tapestry of nations and tribes, each one with their distinctive culture.
Set in Europe and in the Mediterranean Area during
the Classical Age, experience what truly means to manage an Empire.

Expand your dominion through wars of conquest and make your culture a beacon of light, but be careful though. The risk of Decadence is not trivial. Many civilizations have collapsed for not having seen in time the signs of impending crisis. The older your empire, the more challenges will lurk in the shadows. Just expanding your borders without carefully shaping your form of government and culture won't be the wisest of strategies.

Manage your Empire on a scale that fits you: adjust all the details of an important region, form provinces to oversee your growing realm.

Construct buildings to enhance your army, the life of your citizens, and the economy. Establish and grow a trade network of goods and resources.

The battle system is not just about who brings the larger force. Army composition and understanding the strengths and weaknesses of you and your enemy are decisive, so is choosing wisely the battlefield and the general to lead your troops.

And, if you want even more direct control, Field of Glory: Empires lets you export and load your battles into Field of Glory II and then load the results back into Field of Glory: Empires!

War is decided not just by battles though, but also clever manoeuvres. Simultaneous (WEGO) turn resolution means thinking ahead to intercept – or to escape! – enemy armies will be essential. Field of Glory: Empires offers a living world where every decision has an impact on every actor.

And once you think you are ready to be challenged, play against real opponents in one of the largest asynchronous multiplayer system ever created.
System Requirements
OS: Windows 7, 8, 10
Processor: 2GHz processor
Memory: 4 GB RAM
Graphics: 1 GB DirectX 9 Compatible Graphics Card
DirectX: Version 9.0c
Storage: 2 GB available space
Sound Card: DirectX Compatible Sound Card
2019 Slitherine Ltd. All right reserved. Field of Glory: Empires developed by Slitherine Ltd. and Ageod Ltd. Published by Slitherine Ltd. Field of Glory: Empires, Slitherine Ltd. and their Logos are all trademarks of Slitherine Ltd. All other marks and trademarks are the property of their respective owners.
What Curators Say
22 Curators have reviewed this product. Click
to see them.