Representative Text
1 Down from His glory,
Ever living story,
My God and Savior came,
And Jesus was His Name.
Born in a manger,
To His own a stranger,
A Man of sorrows, tears and agony.
Refrain:
O how I love Him! How I adore Him!
My breath, my sunshine, my all in all.
The great Creator became my Savior,
And all God's fullness dwelleth in Him.
2 What condescension,
Bringing us redemption;
That in the dead of night,
Not one faint hope in sight,
God, gracious, tender,
Laid aside His splendor,
Stooping to woo, to win, to save my soul. [Refrain]
3 Without reluctance,
Flesh and blood His substance,
He took the form of man,
Revealed the hidden plan,
O glorious myst'ry
Sacrifice of Calv'ry,
And now I know Thou art the great "I Am." [Refrain]
Source: Favorites Number 2: A Collection of Gospel Songs #12
Author: William E. Booth-Clibborn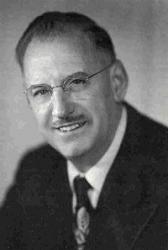 William E. Booth-Clibborn was born on August 4, 1893 in Switzerland. He was the son of Arthur and Catherine Booth-Clibborn, and became the best known of the Booth-Clibborn children, having a worldwide ministry of evangelism and writing. He accepted the Oneness doctrine and was baptized in Jesus' name. Meetings he conducted in Australia during the early 1930s helped found several Pentecostal churches. He later founded Immanuel Temple in Portland, Oregon, where he died in 1969.
From www.apostolicarchives.com