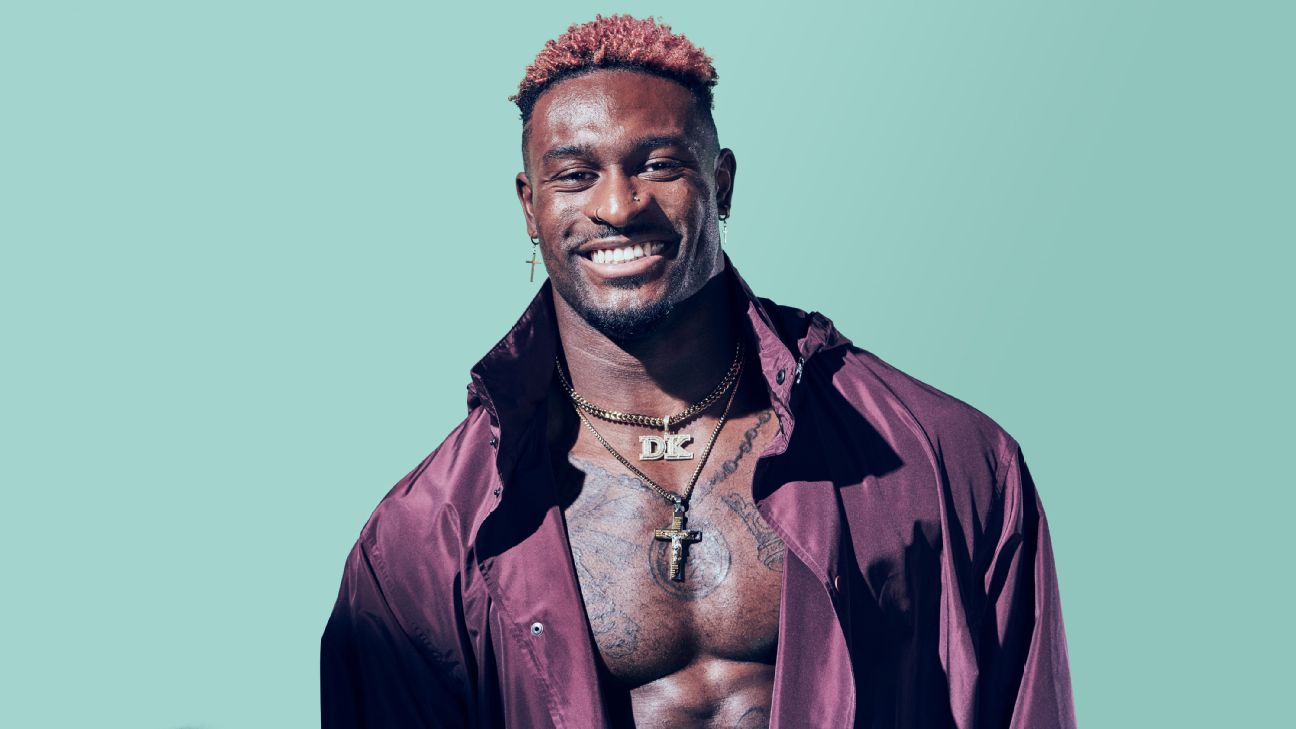 DK Metcalf talks to his feet.
Running a shallow goal-line cross against the Arizona Cardinals in Week 6, Metcalf, the Seattle Seahawks' second-year wide receiver sensation, watches an errant lob pass float dangerously toward the end zone. Safety Budda Baker breaks on the ball, with nearly 100 yards of deserted, perfectly manicured green grass in front of him. Metcalf sighs and whispers a single command: "All right, go get him."
When his dutiful Grinch-green left cleat plants at the 2, Metcalf is already 10 yards from Baker. By the time he reaches the 30, though, Metcalf has nearly passed 11 players. He flies over the 40 in about 4.5 seconds. And near the 50, after even Russell Wilson, Captain Can-Do himself, abandons all hope of catching Baker, Metcalf is on his own. As he accelerates to nearly 23 mph, which he says is still below his max speed, Metcalf's arms are pistoning so ferociously, he's in danger of knocking out his trademark binky mouthpiece. ("I'm 22. I'm a baby in the league," Metcalf says of the mouthguard choice, "but I play like a grown man.")
Lurching toward the end zone, Baker twists and turns, trying to get a read on the entity creeping closer over his shoulder as Metcalf goes into stealth mode, this time commanding his dogs to be "quiet." This is the snapshot that will launch a million memes. (Metcalf's fave is him as Joe Biden chasing down Baker as Pennsylvania.) Metcalf, who is 6-foot-4, 230 pounds, and built like a human Batman suit, engulfs Baker just short of the end zone.
"How'd he catch my ass?" Baker screams after the tackle. "What the f—?"
It's a response Metcalf has gotten a lot during his breakout season — a year so off the charts that this particular effort, the tackle Pete Carroll calls "the play of the century," might not even be Metcalf's best work. In Week 2, he bullied and embarrassed New England Patriots corner Stephon Gilmore, the reigning Defensive Player of the Year, to the tune of 92 yards and a TD. He followed that up with jaw-dropping, game-winning grabs against Dallas and Minnesota, and then he had one of the best games ever by a Seattle receiver (12 catches, 161 yards and two TDs) against the San Francisco 49ers. All the while, he has left a yard-sale scattering of demolished, despondent defensive backs in his footsteps.
"He's got superpowers, in a sense," Carroll says. "What can't he do?"
Now in the NFL's top four in receiving touchdowns (eight), yards per catch (18.1) and receiving yards (816), Metcalf has garnered comparisons to a young Calvin Johnson (although the comp Carroll prefers is T'Challa), a new nickname, "Baby Bron," from the Lakers captain himself, and increased chatter about a return to the Super Bowl for the Seahawks. "It feels like nobody can stop you no matter what they do," Metcalf says of the rarefied air he's enjoying right now. "It feels like you're on top of the world."
Two years ago, at the start of Metcalf's unprecedented rise, the view was very different. After a freak neck injury at Ole Miss, vulnerable and scared, he looked up from a hospital bed as doctors informed him he might never play football again. They were wrong. Just a few months later, in fact, Metcalf burst onto the scene as the viral (and often shirtless) star of the 2019 combine and the eventual second-round pick of the Seahawks. And in Seattle, a perfect storm of ingredients — the Seahawks' veteran leadership, Metcalf's upbringing as the son of an NFL lineman and a budding telepathy with Wilson that was buoyed by a strange (but effective) offseason bonding ritual — have created a generational talent who is now eyeing NFL immortality.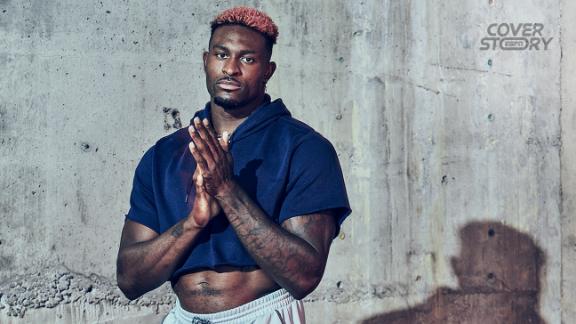 How football was almost taken away from DK Metcalf
In 2018, a broken neck was nearly the end of DK Metcalf's football career. Instead, it marked the beginning of his remarkable ascent. Produced by Michael O'Connor. Edited by Katelin Stevens.
THE ONLY PEOPLE in the world who weren't shocked by The Tackle were seated inside the stadium that night in Arizona, nine rows behind the Seahawks' bench. As their firstborn flew by, Tonya and Terrence Metcalf screamed encouragement to DK, the child they still call DeKaylin. The moment, however, did seem to warrant the invocation of a third option: "Lil Muscle," the nickname bestowed upon DK by Terrence's teammates at Ole Miss, where he was an All-American offensive lineman in 2001 before playing seven seasons with the Chicago Bears.
"He was just a little baby with biceps all shaped up," says Terrence, who introduced his little workout warrior to the weight room when DK was still practically a toddler. "He just showed crazy strength when he was a young kid." Before the Bears' strength and conditioning coaches warned him about stunting DK's growth — a concern that almost seems comical now — Terrence swears Lil Muscle could bench 50 pounds and squat 100 when he was all of 5. That's a tough claim to verify, though when the 2006 Bears won the NFC Championship Game, 9-year-old DeKaylin had little trouble hauling the bulky George Halas Trophy back to his dad's locker inside Soldier Field.
When the family moved back to Oxford, Mississippi, Terrence and a middle-school DK would run the steps together at Vaught-Hemingway Stadium and then complete a series of 110-yard sprints — roughly the same distance, coincidentally, as The Tackle. DK always lagged behind his father, even faking an asthma attack to buy time for a breather. And then, when DK hit seventh grade, something changed. "That day he beat me on every 110," Terrence says. "And I told him, 'There's something special about you."http://www.espn.com/"
Metcalf followed his dad to Ole Miss and, despite missing most of his first season with a broken foot, hauled in 14 TDs in his first 21 games while averaging 18 yards per catch. But halfway through his redshirt sophomore year, during a rainy, sloppy game in Arkansas, Metcalf was clearing a path on a kickoff return when a helmet caught him under his chin, whiplashing his head back while violently twisting his neck past his shoulder. He returned to the field for another play before a white-hot pain in his left arm brought him to his knees. Ordered to the locker room for an X-ray, Metcalf spent the rest of the game in his street clothes with a soft neck brace, believing he had suffered a fairly common stinger injury.
As a precaution, the next day Metcalf went to a hospital in Oxford for a CT scan. When the results came back, he got a frantic call from the team's trainer imploring him to "rush straight to the emergency room." The hit had created a pepper-grinder action on the top of his spine, chipping off a piece of his C4 vertebra, which had come to rest on a shoulder nerve, millimeters from his spinal cord.
Metcalf didn't have a stinger.
He had a broken neck.
"That's when the doctor was like, 'You may not be able to play again. Football should be the last thing on your mind, and you need to have surgery,"http://www.espn.com/" Metcalf says. "He said if I had gotten hit any harder, the bone would've pierced my spinal cord and I would have been paralyzed."
Sitting by himself in the hospital waiting room, Metcalf began dialing Tonya, who was driving back to Oxford from Little Rock, where she'd stayed with relatives after the game. With each call, DK's voice grew more desperate as Tonya crawled through traffic toward the hospital.
"Outside of football, I'm looking at my child, how he could have been in a hospital bed in our living room for the rest of his life," Tonya says, tears spilling down her face at the memory: the slow-motion agony of trying to reach her child during the lowest moment of his life.
"We get there, rush to the back, and I just hugged him," she says. With her mind racing and desperate to comfort DK, Tonya blurted out, "Son, it's OK, people break their necks all the time and come back."
Although her kids still tease her about her bedside manner, Tonya turned out to be correct. DK spent two gut-wrenching, soul-searching days coming to grips with the end of his football life. He had even started to contemplate culinary school before another neurosurgeon reexamined the CT scan and determined that after surgery and months of rehab, DK would be at no greater risk when he returned to the football field. Processing that sudden change of fortune still seems to give the Metcalfs vertigo. Especially when they remember DK after the procedure, motionless in his hospital bed, on oxygen and wearing a massive neck brace with blood from the neck sutures leaking through the bandages.
Metcalf's parents, Tonya and Terrence, have been cherished beacons at the lowest and highest points of his young career. Saeed Rahbaran for ESPN
When DK woke up after surgery, Terrence whispered to his son, "Nothing nobody tells you determines your end. It's all about what you do when you get up out of this bed."
To which DK replied, "Yes, sir."
"I found myself, my real calling in life, while I was sitting at home for a month and a half in a neck brace and in a recliner," DK says. "I told myself, 'Remember these days, because these days are going to make you who you are.' It shaped me into the person I am today, just being at home, thinking about life, thinking about what I want to look like in five months or 10 years down the road."
Three months later, doctors released him to start training again. But not for a return to the SEC, the Metcalfs decided — for a shot at the NFL. It was a risky move. After the foot and neck issues, scouts were going to flag DK as injury-prone. And with less than two seasons of action, DK's fortunes as a pro would come down to landing with a franchise that didn't mind investing a high draft pick and some patience on a player still in need of a lot of development.
The upside: While most college players get eight weeks to train for the combine, DK had three full months to focus and mentally prepare — and he did it with the renewed vigor and joy of someone who had been a millimeter from losing it all. After 30 days at the EXOS training facility in Florida, with the word "miracle" now tattooed on his back, DK sent his parents a picture to show off his progress. His body fat was already near 2%. The Metcalfs barely recognized the kid who a few months earlier had been lying motionless in the hospital bed. A lifelong workout warrior had been given the superpower of perspective at the ripe old age of 21: DK attacked even the most mundane and painful workouts as if they were a privilege.
Weeks later, Metcalf was crowned the
2019/insider/story/_/id/26111901/2019-nfl-combine-top-draft-prospects-risers-best-day-2-workouts">breakout star of the combine after a 4.33 40-yard dash ("I thought he'd run faster, like a 4.29," says his dad), a 40½-inch vertical and other herculean feats that drew praise from