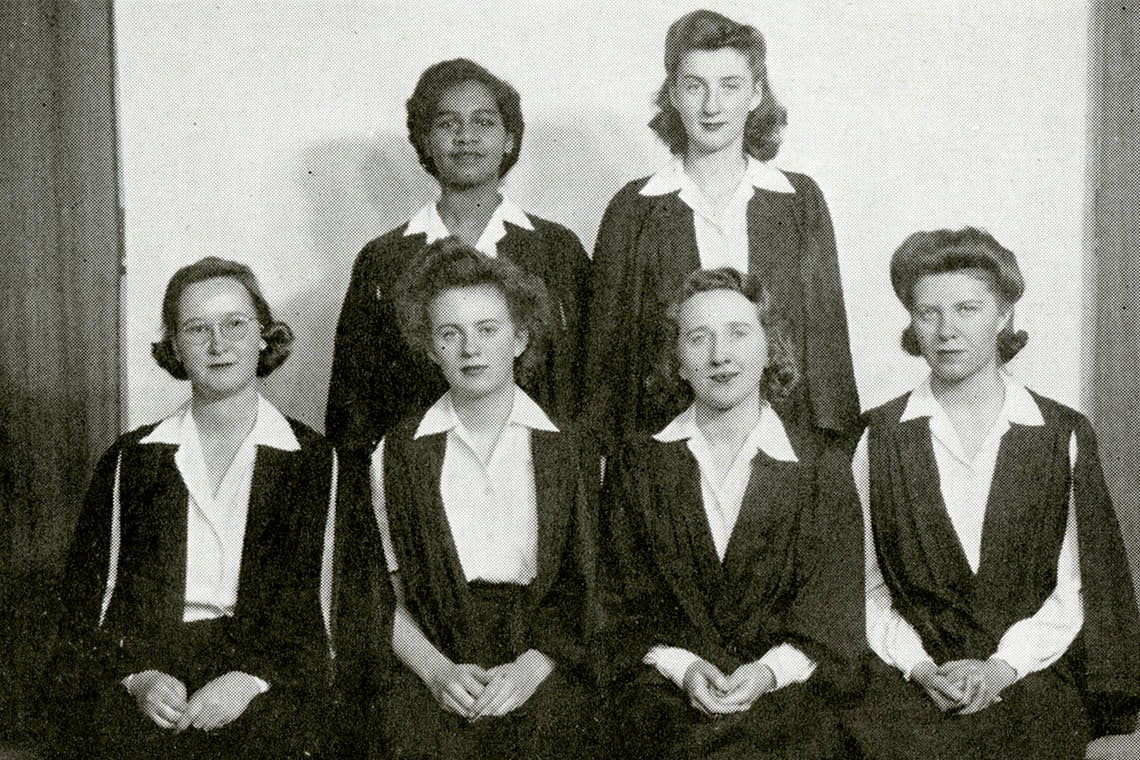 Within the pages of the 1945 edition of Torontonensis, the bygone yearbook of the University of Toronto, is an entry attributed to graduating student Gloria Clare Carpenter of Trinity College: "Found much to learn, more to enjoy."
Carpenter's daughter, Margaret Mair, recalls that her mother's memories of U of T tended to be more extra-curricular in nature.
"I remember her talking about her time at U of T, going to her first ice hockey game or trying to learn [how] to ice skate," wrote Mair in an email. "She did come to love ice hockey – in spite of being hit on the head by the student behind her every time his team scored a goal at that first game. But she never learned to skate.
"She found all the children skating past her while she used a chair for support a little off-putting."
Carpenter, who died in 1995, completed her Bachelor of Arts in law at U of T and, at the end of the Second World War, left Toronto to become the first Black woman to graduate from the University of Cambridge, where she pursued advanced legal studies.
At the time, the English Council of Legal Education exempted Caribbean students from part of the English bar exam if they had earned a degree from U of T's law school – a precursor to today's Faculty of Law, which was established to grant degrees several years after the war.
"I continue to be inspired and amazed by people like Gloria who benefited from U of T before me," says second-year law student Rebecca Barclay Nguinambaye, president of U of T's Black Students' Law Association (BSLA).
"Stories like hers remind me why it is so important and encouraging that the school is supporting Black students and working to increase representation through its Black Future Lawyers initiative."
Hailing from Kingston, Jamaica, Carpenter (left) was one of two Caribbean students to arrive at U of T's law school in the fall of 1941. They were welcomed by then faculty secretary
Bora Laskin
, who later became Canada's 14th chief justice and after whom the law school's library is named, according to the 2005 book,
Bora Laskin: Bringing Law to Life
.
Soon after, other law students from the Caribbean joined Carpenter at U of T, many of whom had successful and remarkable careers: Eugenia Charles (1919-2005) became prime minister of Dominica; Louis B. Fox (1914-2010) served on the Jamaica's Court of Appeal; Telford Georges (1923-2004) served as chief justice of Tanzania, Zimbabwe, and the Bahamas; and Noor Hassanali (1918-2006) became president of Trinidad and Tobago.
Carpenter's 1945 Torontonensis entry cites the many associations she participated in while at U of T, including the women's inter-faculty debating union, Trinity's St. Hilda's literary group, membership in the international affairs society, polity club, dramatics and basketball.
"She loved music and played the piano very well," wrote Mair. "One of her favorite songs was the 'Huron Carol,' which reminded her of Canada."
Carpenter was also the editor of the fourth edition of U of T's Law Review – now in its 78th volume. The masthead lists the names of five students who were killed in action during the Second World War above Carpenter's editor's message in support of a liberal legal education. She wrote:
"It is all well to remember that the lawyer, the doctor, any person whatever his trade or calling, is primarily a citizen, and he will be the better equipped to realize his role in the community if he knows something about the society in which he lives."
In Torontonensis, Carpenter listed her future plans as simply, "the bar." After the war, she studied at Girton College at Cambridge University from 1945 to 1947 and was called to the Milton Temple Bar in London shortly thereafter. 
While at Girton, she met George Cumper. The couple married and returned to Jamaica, where they continued their intellectual pursuits. Cumper, a social and health economist, taught at the University of the West Indies (UWI) and later the London School of Tropical Medicine and Hygiene after working with the World Health Organization in Southeast Asia. Together they raised two daughters and a son.
Back home in Jamaica, there were hardships. After all she had achieved, no one locally wanted to hire a woman to join their private practice. Carpenter's father – who supported the education of his daughters – offered to help her find an articling position, but she declined.
Nevertheless, Carpenter was influential in modernizing the family courts of Jamaica, ensuring children born outside of wedlock be legitimatized and authoring works on family law in the Caribbean and Commonwealth.
Her papers on child and family law, social policy and identity are archived at the UWI Mona campus.
As one of the first resident tutors for UWI, she also taught courses in law and social work, and is credited with helping establish UWI's law faculty.
Mair says her mother's occupations were always in service of others.
With files from Margaret (Cumper) Mair, Cambridge University and the University of Toronto and Trinity College Archives